How many of us have that orange box in the fridge that is supposed to be replaced every 3 months, but we're not quite sure just how long it's been in there? I know I reach for it whenever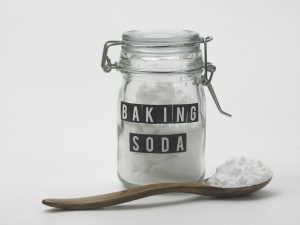 I'm baking or cleaning the bathtub. But lately, I'm learning that little box offers baking soda beauty uses. Baking soda is an alkaline compound that won't stain or aggravate sensitive skin. Here are some fabulous ways to utilize your new Frigidaire bestie!
5 Baking Soda Beauty Uses
1. Sparkling smile!
All those toothpaste brands are charging an arm and leg for the new whitening toothpaste. But if you just sprinkle a little baking soda on a damp toothbrush and brush in small circles for about a minute – prior to your actual nightly brushing – you can whiten those puppies up a few shades while saving some money in the process.
2. Reclaim that mane
When was the last time you changed your shampoo, conditioner, hairspray or dry shampoo?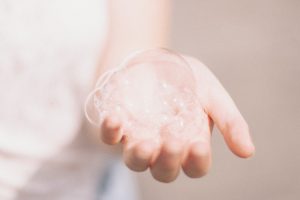 We all have our die-hard brand favorites that we are super loyal to. But when we use the same formulas over and over, they can tend to build up in our hair. Just because we wash our hair does not mean the products are gone. Even the shampoos to help soften (silicone) and make our hair smell amazing can build-up, making it tough to manage after a while. Next time you shampoo, pour about a half-dollar-sized amount on your palm and sprinkle in some baking soda. Lather, rinse, repeat…just kidding, but do get a good lather and rinse it out. All those products will be stripped out and you will notice a huge difference!
3. Bye-bye nasty little blackheads…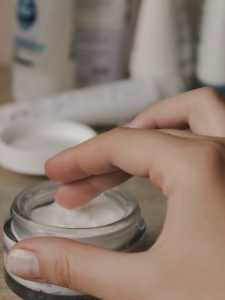 This is where Thomas Dolby yells "Science!" and it makes this stuff fun! If you mix some baking soda and water into a little paste and pop it on a freshly-washed face for about 10 to 15 minutes, it really helps even out skin tone, take down blackheads, and can even help with adult acne. Rinse with cool water and then moisturize afterward. The baking soda helps dry out acne and helps clean out pores by removing all those teensy little dead skin cells and dirt.
4. Rub a dub dub – pop some baking soda in the tub!
If you are suffering from itchy bug bites or a nasty sunburn this summer you can draw a nice cool bath and put 2 to 3 cups of baking soda in. It will help soothe your skin and take down the irritation. Same thing if you are having dry skin during the winter! Baking soda helps calm that cold-weather-chapped skin.
5. A healthier way to remove cuticles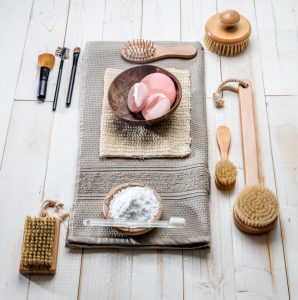 Pushing back your cuticles back or cutting them are both huge ways to allow bacteria into your life, not to mention some pain in the process! If you put a 1 to 1 ratio of water and baking soda on your cuticles and then massage them gently with a nail brush, you can exfoliate all that dead skin right off and leave your hands smoother and healthier in the process.
Well thank goodness for cheap panaceas you can buy at the grocery store! This little alkalizing hero can do so many things. I started to research some crazy baking soda beauty uses and was blown away! I hope you enjoy trying these and maybe discovering some new ones you love too.
>READ: PRIME PICK: BEST DIY CELLULITE TREATMENT
>READ: ARE NECK CREAMS REALLY NECESSARY
>READ: 6 MUST HAVE SKIN CARE TOOLS FOR WOMEN 50+
>READ: ARE BATH BOMBS SAFE? FIND OUT BEFORE TAKING THE PLUNGE